Materials crisis, sales losses and European Chips Act – KATEK SE, together with the market research institute Dynata, surveyed 570 companies and manufacturing service providers for electronics (EMS) to find out how they assess the current situation.
Chips are lacking – but that is far from the only challenge for companies. Among other things, the study examined which parts are most frequently lacking in the respective industries. While the results in the automotive and telecommunications sectors show that chips are primarily lacking, closely followed by semiconductors and integrated circuits, they are only in third place for organizations in the renewable energy and environment sectors, for example. One in three companies expects to lose between 10 and 19 percent of its sales due to the materials crisis, with the automotive sector estimating the losses to be significantly higher. The European Chips Act, which is supposed to bring relief by 2030, comes too late for many of the respondents and contains too low volume to achieve the planned goal of producing one fifth of all chips worldwide in Europe.
Most companies expect a drop in sales of between 10 and 29 percent
The material crisis has occupied companies for over a year. A third of all respondents stated that they expected a drop in sales of 10 to 19 percent. 20 percent assume a decline of 20 to 29 percent in 2022. The telecom industry is below average. Here, 38 percent state that they will lose no or only up to 9 percent of sales due to the material crisis. The automotive industry, on the other hand, is much more pessimistic about 2022. A third of those surveyed stated that they generated 10 to 19 percent or 20 to 29 percent less sales due to the lacking parts.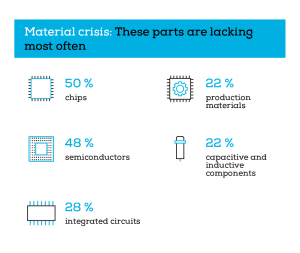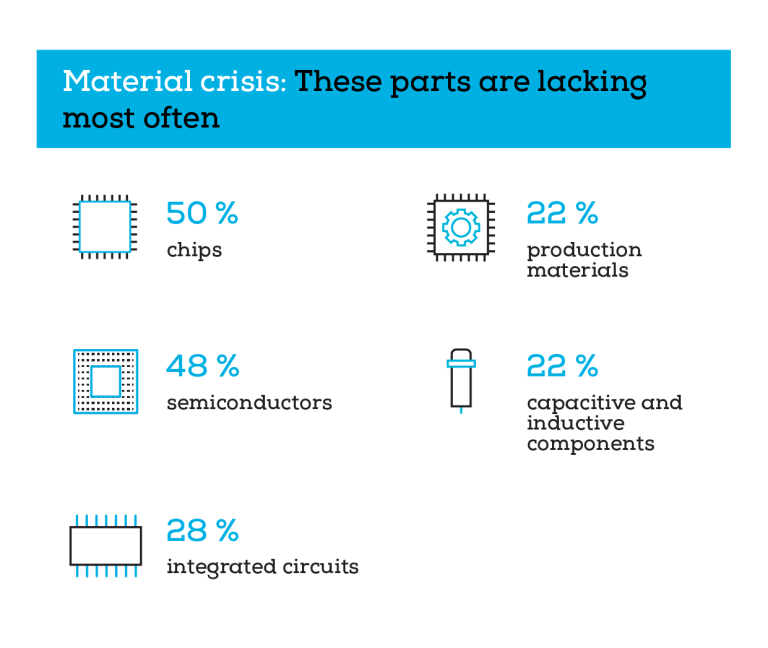 Chip shortage: Which parts are actually lacking
While the chip shortage is currently being addressed as the biggest challenge, it is far more parts that bring production to a standstill. Ninety-seven percent of all respondents said they were short of materials. In fact, half of the companies are most likely to be lacking chips, almost on par with semiconductors. Nearly one in three organizations is struggling with missing integrated circuits. Twenty-two percent each said their greatest need is for production materials such as solder and capacitive and inductive components.
In addition to chips and semiconductors, one in four companies in the automotive industry also lacks cable harnesses, closely followed by plastics. Companies in mechanical engineering and industrial engineering primarily lack semiconductors, followed by chips and integrated circuits. The responses in the renewable energy and environment sector are surprising. Here, 55 percent of organizations lack semiconductors, followed by integrated circuits. Only about one in three companies states that chips are lacking.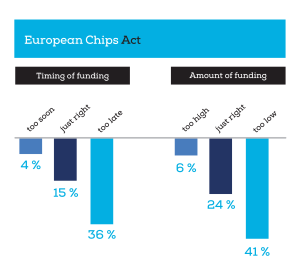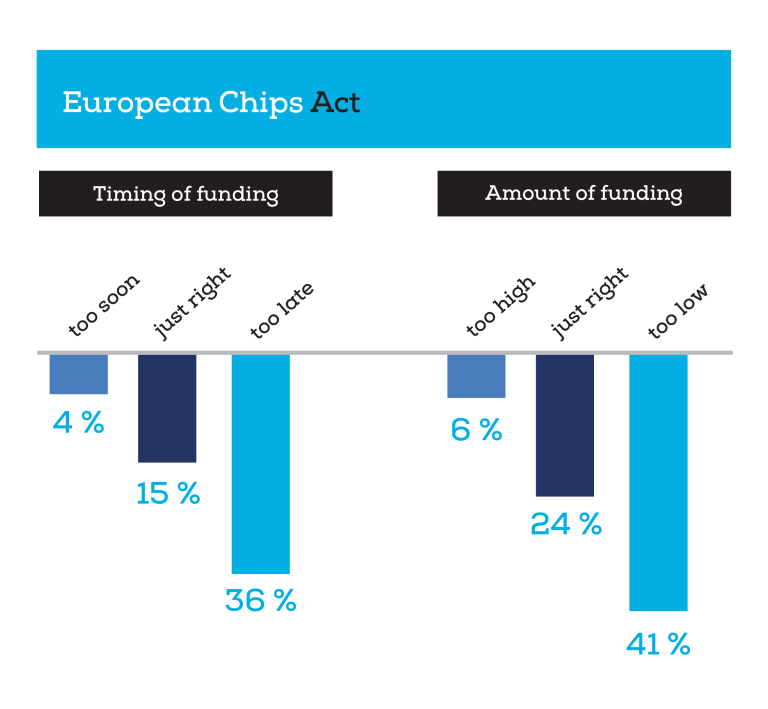 European Chips Act: Too little funding, too little time
One of the reasons that most companies in the electronics industry lack chips is that two-thirds of all chips come from East Asia. Due to lockdowns during the pandemic, the supply chain to Europe was frequently interrupted. The European Chips Act envisages producing a fifth of all chips worldwide in Europe by 2030, compared with just nine percent at present. At least EUR 43 billion euros will be invested. The participants were asked, among other things, how they assess the EU's commitment. 41 percent think the planned investments are too low. Only 24 percent think that the level of funding is just right. 36 percent think the timing is too late, while 15 percent think it is just right.
About the study: KATEK, together with the market research institute Dynata, surveyed 570 companies and manufacturing service providers for electronics or electronic components (EMS) in Europe (Germany, Austria, Switzerland, Italy and Spain) in April 2022. One third of the respondents each represent a company with less than 500 employees, between 500 and 1,000 and more than 1,000 employees from the electronics industry, IT & services, automotive, mechanical engineering & industrial engineering, industrial automation, telecommunications and renewable energies & environment sectors.